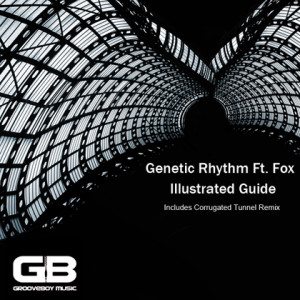 Super excited about our next release on Grooveboy Music,  Genetic Rhythm Ft. Fox – Illustrated Guide,  its something a bit different that's gonna surprise a lot of people we reckon, here's a little preview, release date Febuary 2013…
Genetic Rhythm Feat Fox – Illustrated Guide
Original & Corrugated Tunnel Remix
Since its inception Grooveboy Music has always strived to bring you a diverse mix of musical styles and with Genetic Rhythm Ft. Fox – Illustrated Guide, an atmospheric down tempo electronic groover, the label moves into previously uncharted territory. The original mix is built around newcomer Fox's smooth flowing lyricism while the Corrugated Tunnel mix brings the tempo and intensity up to the next level.
The Original mix gets straight in to the action with a smooth fluid groove, low slung one note bassline, funky chops, dark synth stabs and atmospheric pads that make a perfect backdrop to Fox's flawlessly delivered tale of overcoming life's many pitfalls.
Highly rated Irish DJProducer Corrugated Tunnel delivers a top quality remix that strips back the vocal while at the same time builds the intensity to the breakdown with some tasty funk driven percussive elements the track then revels an achingly beautiful piano motif and trumpet riff that ramp up the intensity levels even more.